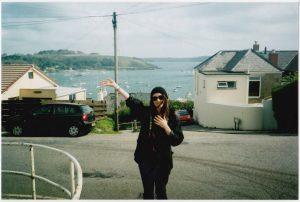 Hello everybody!
I'm Katie Brennan, nice to meet you! I'm really excited to start working at Big Bow! Everyone I've met already has been really lovely, so I'm really excited to get to know everybody too. 
When I was younger I became really interested in Japanese culture, and I've always wanted to live and work abroad, so I came to Japan to experience a completely new life. I've travelled around Europe a lot, and I've been to America, but I've never been to Asia before coming to Japan. The past 6 months that I've been here have been an adventure, and a lot of that time I've been pushed out of my comfort zone - but I think that sometimes that is exactly what you need to grow as a person. I'm looking forward to learning a lot at Big Bow!
So, if you've already met me, can you guess where I'm from? I'm from London, England! There's so much to do in London, but during the summer I had an amazing trip down to Sussex to hike along the Seven Sisters - the Seven Sisters are a series of chalk cliffs by the English Channel. We stayed in an old-fashioned cottage set in a beautiful walled garden - perfect for me because I love gardening! Herbs and roses are my favourite. If you ever get a chance to visit England, take a trip into London and then visit the countryside - I recommend it!