For over a decade, I traveled all over Japan giving teacher training presentations and often heard from teachers and school owners about how difficult it was for them or their teachers to find the time to attend teacher training seminars. Sometimes they also expressed an interest in learning more about a subject than what could be crammed into a typical one hour session. More recently, teachers with small extensive reading libraries shared frustration with managing them and how books went missing every year. Listening to these concerns led us to create a new company, LIXON Education.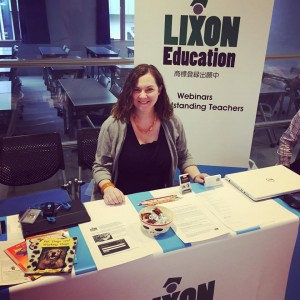 LIXON Education had a table at the Tokyo ETJ EXPO last weekend.
I also gave a presentation on some of the CLIL lessons that I teach at BIG BOW English Lab.
I presented a lesson on how to make a mummy. . .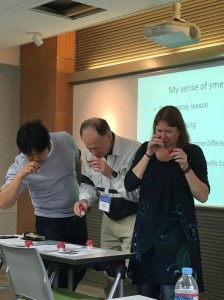 A multisensory lesson on the sense of smell. . .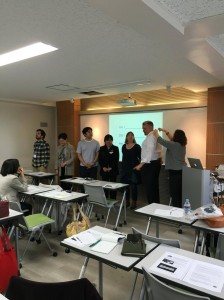 And a lesson about famous people in history. I'll be giving a four session webinar certificate course on CLIL lessons that work with elementary students in Japan from November 17th. http://lixon.wiziq.com/course/168803-clil-lessons-that-work-for-early-elementary-students-in-japan
Also, Kate Cory-Wright, a British teacher in Ecuador who has given over 500 teacher training presentations in 24 different countries, will be giving a free webinar on November 10th, Thursday, from 8:00 p.m. – 9:10 p.m. (Japan time), "Motivate your students with HOT thinking skills" - Every week in class we ask our learners hundreds of questions. But how many of the questions really make the learners think about what they are learning? In this session, Kate Cory-Wright will focus on the higher order thinking skills (HOTS) and show how we can adapt some fun and practical activities for elementary students, so that learners gain more from our questions. http://lixon.wiziq.com/course/170377-motivate-your-students-with-hot-thinking-skills

We're very excited about the launch of LIXON Education and have plans in the future to offer library management services and teacher training solutions for English schools.