For Obon holidays I ventured into Gifu to see the little cities and villages hidden in the mountains. I took the "Shoryudo" path (Rising Dragon). The heat was terrible but I managed to survive it to see some pretty cool sites and aspects of Japanese culture. One thing that I don't think some foreigners realize about Japan is how thick the forests are once you leave the cities. Most people just imagine cities like Tokyo, Osaka, and Kyoto when they think of Japan.
My main destination was Takayama, which introduced me to the treasure that is Hida beef. I had just arrived and found a random street fair. I was starving since I hadn't eaten since I got on the bus. I found a food stall with skewers of beef and it was the most delicious beef I have ever tasted. I went back and bought a few more because it was so good. Besides all the different varieties of meals you can eat with Hida beef, the city itself was really picturesque. The old town was really cool and I got chopsticks engraved with my name in English and in Katakana. One interesting thing I found was a calligraphy performance by a local high school club. I had never seen one before and it was a nice display of coordination and skill.
Using Takayama as my base of operations, I also visited Hida Furukawa and Shirakawa. I went to Hida Furukawa because I had watched the famous movie Your Name and heard that you can see some stunning similarities between the movie and that city.  Although it was a let down when a big thunderstorm came. As a result, I spent most of that time stuck underneath a roof at the station, but it was still cool to see nonetheless. Shirakawa was really cool because I got to see some traditional Japanese architecture. Nowadays in Japan, most buildings are modern, so it was nice to see some historical homes.
Finally, I visited Gujo Hachiman. This place was my favorite for a couple reasons. First, the main reason I went there was to see sampuru and make one of my own.  I made tempura and some side dishes. I was the oldest one participating (the rest were all children), but it was really fun. It was also difficult because the workers explaining how to make the sampuru could only speak a little English.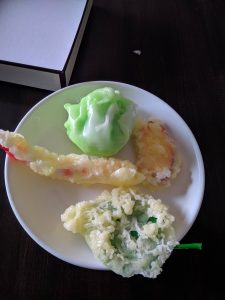 However, the reason Gujo was my favorite experience was because I got to swim in the rivers there; the cool water felt so nice on such a hot day. Also you can see the locals jump from the bridge into the river. I thought they were crazy to do that! All in all, I would highly recommend people see these places.