Over the weekend, I went to Okinawa to make a keynote speech and a keynote workshop at the 21st Century Language Teaching conference.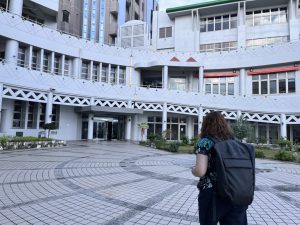 Of course, I was very excited to visit Okinawa, but I was also happy to reconnect with other teachers of children I hadn't seen in a long time. One of the teachers I worked with as an academic consultant years ago is now a university professor whose area of research is teaching phonics to children.
I arrived early in the morning to make my keynote speech, Tips for Teaching Global Topics to EFL Students. I showed how teachers could teach important topics to young learners by avoiding jargon, grading down the language, and connecting the topics to the students' lives.
My workshop in the afternoon was Practical Ways to Help Young Learners Find their Voice. Recently there was a news story about how third-year junior high school students scored poorly on an English speaking test where they had to give an opinion about plastic bags in supermarkets. The results weren't very surprising, considering that students in junior high school classes have little opportunity to give their opinions in English. If we want students to be able to voice their opinions, we need to start early and give them plenty of chances to play with the language, make their own version of songs and stories, and have chances to give their thoughts on safe topics. The workshop concluded with attendees coming up with their own ideas of activities they could do in class.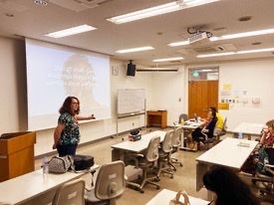 One of the sponsors of the conference was National Geographic Learning, so we had a live virtual presentation by National Geographic Explorer, Lillygol Sedaghat, who teaches children about environmental issues all over Asia. I enjoyed her presentation, as well as presentations about making the classroom more inclusive for neurodiverse students, phonics research, and the educational system of Finland.
Once the conference was over, Mr. Ito and I had time to sightsee and enjoy. We walked along Kokusaidori street and visited a pottery making area.
We had a really unusual lunch at a small shokudo that had a buffet of traditional Taiwanese temple dishes.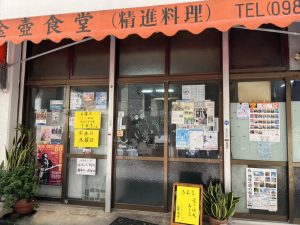 There are so many interesting things to eat in Okinawa. Umibudo (green caviar) and shikuasa potato chips were my favorites!
Our last day was spent at a beach resort. Luckily we could enjoy beautiful sunny weather and see a nice sunset.
The trip was very refreshing personally and professionally!