I hope everyone had a wonderful Christmas and New Year's holiday!
This was the first time in three years I was able to visit my family in Florida. Traveling internationally is not as easy as it was pre-pandemic, but I was happy I could see my family this Christmas.
Christmas dinner prepared by my mother was delicious. We had roast turkey, baked sweet potatoes and vegetables, jellied cranberry sauce, and stuffing. Pecan pie with whipped cream was our dessert.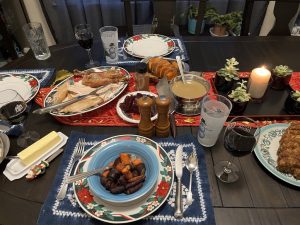 The first few days of my trip were very cold, but it soon warmed up. I took a walk almost every day around the lake near my parents' house. Many old oak trees around this lake are covered with Spanish moss and alligators live in the lake.
Every time I go to America, I always visit a large bookstore to get books for the BIG BOW library. It was a lot of fun to discover new series that are popular with American children. It was exciting to see new books in series popular with BIG BOW students, such as The Babysitter's Club graphic novels.
One big problem I had was that one of my suitcases was delayed. It took over one week before I could get it back. When I finally got it back, I was so happy, I hugged it! Finally, I could give my family the Christmas presents I bought in Japan.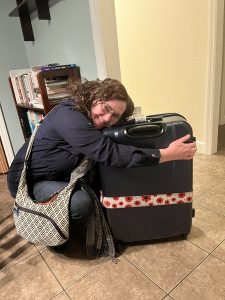 Many American travelers had problems with canceled flights and delayed suitcases this Christmas, so I was probably lucky it only took a week to get my bag.
Japanese would probably be surprised to hear that Americans leave up their Christmas decorations until the middle of January. My parents put up a small tree and a Christmas wreath.
However, the neighbors across the street had all the characters from Peanuts and Santa in his sleigh!
While I had a great time in America seeing my family, I am looking forward to returning to Japan. I hope everyone has a safe and happy 2023!