I was invited, along with four other teachers of children, to present about taking our classes online on Sunday at a JALT Niigata event. However, none of us went to Niigata to make the presentation because it was a Zoom webinar! Over 170 teachers attended the online event, entitled Suddenly Teaching Kids Online? Some Ideas to Help You Through.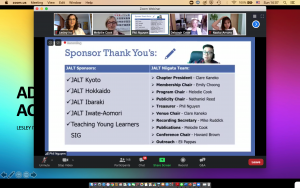 My presentation was adjusting to the imperfect, accidental online lesson. With the COVID-19 pandemic, many teachers suddenly had to take their classes online with little training or guidance. Luckily, I had the support of other teachers to help me learn how to use Zoom and figure out the best way to do this. Unfortunately, most online tutorials talk about how to teach adults on Zoom. I had heard from my school owner friends in South Korea (who had to take their schools online from mid-February) that online lessons were very challenging for children under the age of nine.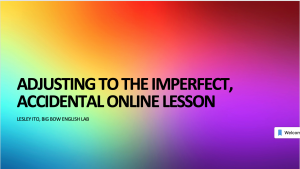 Teachers always try to keep their classes in the Zone of Proximal Development (ZPD), a zone where students can do more than they could on their own with the teacher's guidance and support. I tried to recreate my usual lessons online and had a lot of success with the older students, but with the younger students, I soon realized that lessons that were in the ZPD in the regular classroom had become too difficult online. I quickly had to make a lot of adjustments in order to deliver a successful English lesson online. 
The other presenters were Naoko Araki Amano, Doris Wong, and Deborah Grow, all experienced teachers of children and school owners, who shared a lot of practical ideas. Alex Burke gave us a lot of ideas about how we can help our students with dyslexia, dysgraphia, or ADHD during online lessons. Thanks to Melodie Cook, Phil Nguyen, and our sponsors for making this webinar possible!