For years, I wanted to go to KOTESOL, the largest English language teaching conference in South Korea. This year I finally had my chance.
Extensive reading is also popular in South Korea, so I had a great audience for my presentation on ER research conducted at BIG BOW English Lab.
It felt great to share my BIG BOW library experiences with people in another country.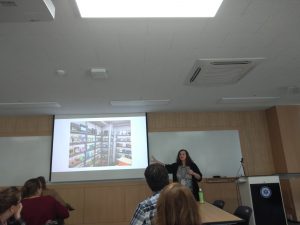 However, the best part of the conference was meeting so many school owners. In South Korea, they have Hagwons. Some hagwons are very similar to an eikaiwa school, some resemble a juku, and others are more a combination of the two. It was fascinating to hear what they had to say. My general impression is that English education in South Korea is more intense, compared to Japan. (However, there is recently a bit of backlash from parents who have bad memories of feeling too much pressure to study when they were young.) Many of the hagwon owners had many of the same challenges and goals that I do in my school, but there were also some other things that were very different.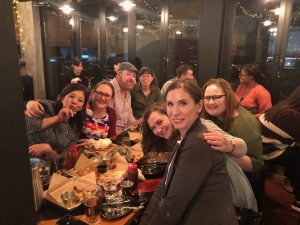 Just like Japan, South Korea is having a demographic crisis, as there are fewer young people. This is having an influence, from underpopulated elementary schools in remote areas to closings of universities. Some universities try to attract foreign students, but are encountering problems when students don't have adequate English or Korean skills to keep up with their classes.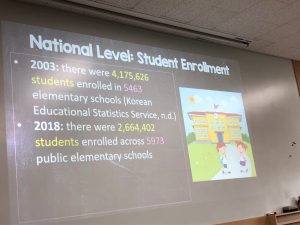 (Photo is of a slide from Vanessa Virgiel's presentation - EFL in Korea's Remote Elementary Schools: Challenges & Opportunities.)
All in all, I had a great time and learned a lot. While there wasn't much time to sightsee, I had plenty of time to eat!
I really hope I have the opportunity to attend this conference again in the future.