A short ferry ride from Okinawa is a little tropical paradise called Zamami Island. The island itself is very small, with a small village near the port and the rest of the island covered in trees. Everyone is very friendly there and seem happy too, but if you live there, why wouldn't you be? It has white sand, a clear, warm sea, and most importantly… sea turtles!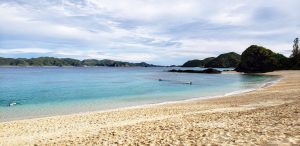 After we first arrived, tired and hungry, we grabbed some yoghurt and bananas from the local shop and headed down to the beach. Walking up a steep hill, we realized that on the way back it'd be pitch black – there weren't any streetlights on our routes. But, oh well! We just used the flashlights on our smartphones. Yay for technology! On our way, we spotted our first (of many) hermit crabs, a long way from the beach. I felt sorry for Mr. Hermit and wanted to carry him back to the beach but was eventually persuaded out of it. Sometimes it's better to leave wildlife alone and let them do their thing. When we finally reached the beach, the clouds had rolled in and the sun was setting, but there is something very peaceful about light rain, a quiet beach, and a misty view of faraway islands. 
Our second day started off with pretty heavy rain. We made the best of it and headed down to the beach again. The clouds were a blessing in disguise though, because they did eventually clear up, and when they did, we got sunburnt (badly) – like true stereotypical English tourists. The person I was with burnt his whole back – which was hilarious! His whole back was the same colour as a tomato.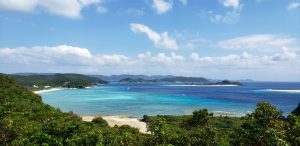 Despite the sunburn, we headed out to a different beach early the next day, so we could hopefully see some wild turtles. As soon as we got there, we managed to see three turtles. I love animals, so it was one of the best experiences! They really are very calm and relaxed, just like in the movie Finding Nemo. I loved the way they used their flippers to push away the sand and eat the sea grass underneath – so cute! Hiking and cycling are also popular in Zamami, and one day we ended up at the view point overlooking the main beach. The view was gorgeous and well worth the difficult cycle up the hill.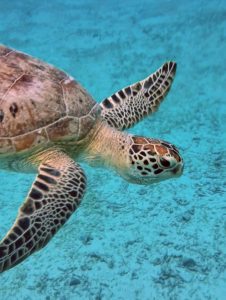 Zamami was very charming and a beautiful place to spend a long weekend. It's now my favourite place in Japan (apart from Mr. Donut in Nagoya, of course)! If you're looking for a lovely little hideaway soon then give it a visit! 
Also pictured: super yummy miso ramen and Blue Seal ice cream. ~