It was such a relief to finally be able to travel to a different country. I truly missed being able to enjoy a culture different from my own and having the chance to experience new things. I have two friends who have been teaching English in Vietnam and they always talk about what a magical country it is.
We started our trip in Hanoi. I loved the historical charm of this city and enjoyed its many coffee shops. Egg coffee was rich and delicious, but my favorite was coconut coffee. It was very refreshing to drink in the hot and humid weather.
Another refreshing drink was fresh sugar cane juice, made right before your eyes on the street using this special machine.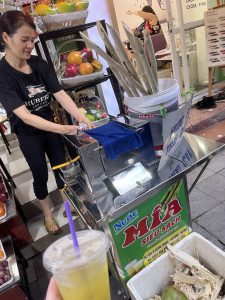 We had watched a few YouTube videos about the beautiful rocks in nearby Halong Bay, so we were very excited to take a cruise around there. There was a terrible thunderstorm that morning, but luckily it cleared up by lunchtime. The highlight of the cruise was having the opportunity to row a kayak in a lagoon. It was so peaceful.
While Halong Bay was incredible, I would have to say that my favorite place on our trip was Hoi An, especially at night. The town lit up with colorful lanterns on the street and in the river. It is customary to light a floating candle, make a wish, and place it in the river. I hope my wish comes true!
We finished off our trip in Ho Chi Minh City. One of the city's famous landmarks is the Saigon Central Post Office, built during the French Colonial period and finished in 1891. There were many tourists sending post cards to their loved ones from this well-preserved historical building.
Our last day in Vietnam, we took the very reasonably priced water taxi down the river and had a great view of Vincom Landmark 81, the tallest building in Vietnam. 
Not surprisingly, it began to pour rain while we were waiting at the water taxi station to head back. The children around us were absolutely thrilled!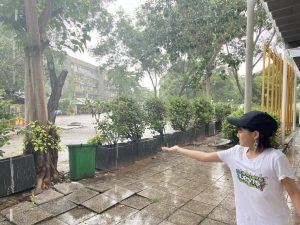 Vietnam has had a long and difficult history of being taken over by other countries, so I was amazed by its strong cultural identity and the positive energy I felt there. I definitely want to go back again and experience more!