Winter was a very busy time with the usual preparations for the new school year. However, I had time to go to two very interesting art exhibits.
The Taro Okamoto exhibit was excellent!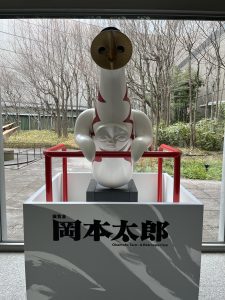 We visited the museum in what used to be his house in Tokyo five years ago. This exhibit at the Aichi Art Museum was better, with so many different artworks. 
I thought it was interesting there used to be a mural on what is now Mitsukoshi Department store in Sakae.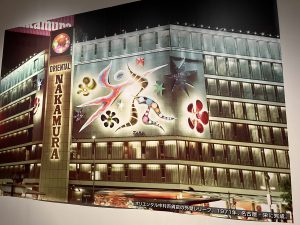 I couldn't resist buying a capsule toy at the exit.
The second exhibition I went to was Van Gogh Alive. This was perhaps the first art exhibit I've ever been to that didn't have any original artworks. Instead, it had a lot of AR and other interactive exhibits. I thought it did a great job of introducing Van Gogh's life. It left me feeling sad that despite being one of the greatest artists of the 19th Century, he could not fulfill his dream of selling a painting and helping out his very supportive brother.  
However, the AR exhibits, captured on my smartphone, were definitely a new way to enjoy Van Gogh's Sunflowers and The Bedroom. 
Now that Japan is starting to come out of the pandemic, I'd like to resume our BIG BOW museum trips. I haven't decided if we will take the students to an art museum this year or visit the tidal flats at Fujimae Higata, but it's something to look forward to!