Before I came to Japan 27 years ago, my image of Japan was that it was all concrete buildings. I was really pleased to discover that there were so many beautiful mountains and so much nature to enjoy. It was a real change from Florida, where the land is mostly flat. I spent many happy weekends going camping in the mountains with Mr. Ito and saw a lot of Japan that typical travelers never see. However, over the years I started staying in hotels more than tents.
Now that camping is a safer option during the COVID era, we have started camping again. Two campsites we have recently stayed at were very unique. The first was Everglades in Ise Shima. It's really funny because it really does look a lot like the real Everglades in south Florida. The place had the atmosphere of a very nice American YMCA campsite. While this camp is best for families with children, I still really enjoyed it.
The best part was having our own canoe! I hadn't gone canoeing since I was a child at summer camp. We had a great time canoeing among the reeds in the morning.
The second camp was Fumottopara, Fujinomiya. Fumottopara means "the field at the foot of the mountain" and on a clear day campers can enjoy a great view of Mt. Fuji. Unfortunately, we were only able to clearly see the mountain for about 30 minutes in the morning on the last day.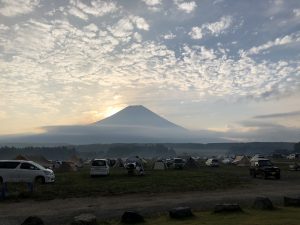 Have you ever heard of glamping? Glamping means "glamourous camping" and the emphasis is on comfort and good food.
The best meal was dinner on the first night when we cooked a whole chicken in our Dutch oven. It was juicy and delicious.
I loved this cute little van painted to look like an American school bus. It had "COOL BUS" painted on the front.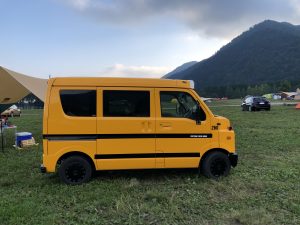 Fumottopara was a lot of fun, but as the weekend began, it started getting crowded. I was happy to leave on Saturday morning as more and more campers started to arrive.