The 45th Annual International JALT Conference was held in Nagoya at the beginning of November. It was a very fulfilling weekend, but very busy.
The first day, I was part of a panel on storytelling with Alison Nemoto, Chiyuki Yanase, and Karen Masatsugu. We all shared how storytelling was part of our English programs. As CLIL lessons play a big role in BIG BOW English Lab's curriculum, I demonstrated a math lesson using the book The Doorbell Rang and a geography lesson using Me on the Map. After that, we had a great discussion with the audience about our challenges and successes with storytelling and young learners, as well as recommending new books to each other.
Later in the day, I made an academic presentation on the research I did for my MSc dissertation on motivating young learners to do extensive reading.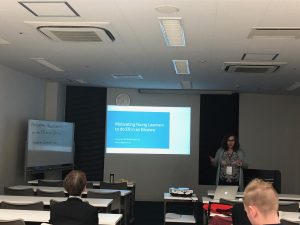 It was great fun to stop by the englishbooks.jp booth and pick up my set of 10 Ways graded readers by Halico. I wrote five of these books and am currently writing two more, so it was thrilling to finally hold the print copies in my hands.
The next day I gave a presentation on practical ways to get young learners to read and understand CLIL passages. Many teachers just give students the passage and expect them to understand it after only one read through, but many students find this task daunting or perhaps their reading skills are not adequate enough to do this independently. If students are given support with learning the vocabulary, opportunities to read the passages many times in different ways, and shown how to effectively use visual aids such as maps or photos, they will be able to successfully understand it. 
Finally, my good friend and fellow school owner and teacher of children, Mari Nakamura, was one of the plenary speakers. She gave an excellent speech about the cultural exchange projects she has been doing in her classes with teenage students. Perhaps you might think that these kinds of projects can only be done in the private language school context, however, she also spotlighted cultural exchange programs in public schools in Japan.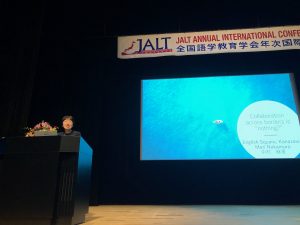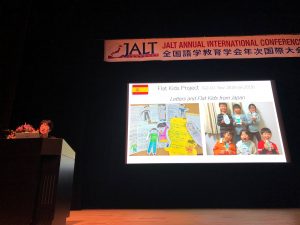 It was a very touching and emotional speech and very exciting to see another teacher of children up on the big stage. I sat on the front row with other teachers of children so we could cheer her on.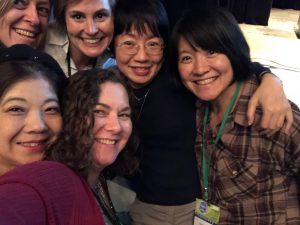 This was the sixteenth JALT international conference that I have attended and certainly one of the best!